Eureka - Strike the Ball like a pro !
by Harry
(Ireland )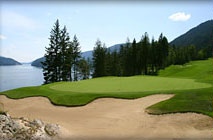 Learn how to join this topic or start YOUR conversation at the end of this post!
Hi , I'm a reasonable golfer off 12 H/Cap. I'm a golf nut I suppose, reading books, internet surfing, you name it.

Here's something I devised myself.

During your pre-shot routine you stand behind your ball pick out a target & align a small mark in front of the ball 12- 14 '' to your intended target? Agreed?

Pick another spot directly inline but this time 3'' ahead of the golf ball...

Take your stance & DON'T LOOK AT THE BALL! YES DON'T LOOK AT THE BALL!

Look at the spot 3 inches in front of the ball and make your normal swing focused on the divot or some mark 3 inches ahead of your ball!

It takes some guts to get used to it but believe me this works.

Your now striking down on the ball & accelerating through it because you've moved your impact position forward.

I'm hitting my irons lower, further & getting a great trajectory.

My last two rounds I shot 80/79!

I'm a pretty good putter but my drives can be a little wild sometimes.

I tend to swing too hard at my drives when I get tense! Still working on this one.

Give it a try this will work!

Cheers from Ireland

Yes I do play my golf on a links so a 79, 80 is damn good scoring!

I'd like to hear from others! Hey, what works for you?!

All readers out there can add to this conversation or talk about whatever you want by clicking here!