Mental Preparation for Golf
"You've transformed my game"

"I've played golf for over 30 years, but your knowledge and teaching has transformed my approach to the game and helped rejuvenate my love for this wonderful game. Thank you so much once again, you have changed my golfing life."

Terry Hoar, UK
10 Handicap
Mental preparation
is essential if you plan to play as well as you are capable.
"You better have a plan or you're planning to fail."
What mental preparation techniques do you employ?
Keep in mind that if you do not get mentally prepared for your round your "natural" tendencies will dominate your attention. So if you get nervous prior to a round or find it difficult to get focused for several holes, this is what you will experience.
Sure, you can hope "this time will be different", yet this is a mental error and merely supports "winging it" as your technique. Not the best strategy, wouldn't you agree?
By using your mind in an effective way, and following a few simple processes, you dramatically increase your ability to play at your peak. Let's look at a few things you can do to improve your pre-round mindset and make sure you have a gameplan.
Your mental preparation should meet the demands of the "importance" of the round
First you want to define the relative value you are placing on the round you're about to play. Is it a casual round with friends, a game with business colleagues, an important match or tournament?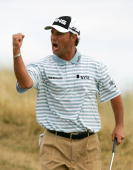 *The demands on your potential, and how easy it will be to access that potential, is relative to the importance you place on the round you're about to play.* If it's just a casual round then the necessity to dig deeply into your mental game toolbox is reduced.
While there is value in approaching each round with clear focus and following a gameplan, treating a casual round with friends like it's the US Open is a bit ridiculous.
In fact, just watch the foursome in front of you as they take 5 minutes each to putt out and turn a casual round into the sectional qualifier of the US Open! 5 hours later you drag yourself off the 18th green....
3 keys to mental preparation
Establish your rhythm
Establish a rhythm - begin your day by slowing everything down a notch. From brushing your teeth to drinking your coffee. Move a bit slower. When you arrive at the course remove your clubs from the trunk a little slower and walk slower to the practice green.

This is an excellent strategy that sets a personal rhythm well in advance of your important match/tournament and makes it easier to establish/maintain a good personal rhythm early in the round.

Remember, it's likely you're a tad nervous prior to an important tournament so your breathing will unconsciously accelerate and your pace will quicken. Make a conscious effort, as you walk down the first fairway after your tee shot, to set a nice pace. This will offset any tendencies to speed up.
Preview your round
Preview your round - use mental imagery and do what I call "prehearsal". See and feel yourself playing the way you want to. This can be done while driving to the course. Spend a few moments "anticipating" likely on course distractions.

Will there be spectators? Are you in a foursome or a twosome? What are the course conditions? Is it a windy course or well treed? What you want to do is provide your unconscious with a virtual preview of potential scenarios you might face.

You'll be surprised, as you continue to apply this technique, at how effective it is in allowing you to remain focused, centered and calm. In spite of environmental variables that might present themselves.
What is your gameplan?
Have a gameplan - whether you have actually played the course or not, (needless to say you should play the course at least once prior to an important match/tournament) what is the best personal strategy to play this particular course well?

Perhaps leaving the driver in the bag for many of the holes is the way to go. Is it a course with deep bunkers which make sand saves a real chore? What are the idiosyncrasies of the course that give it its character: this way you can "think like the designer" and play accordingly.

This is a great method that really allows you to play the course, not your opponent. The very act of thinking like the course designer is higher level of thought and taps the unconscious. A definite plus in peak performance.

What you want to do is place your attention on the course itself. Preview the best way to approach things. Have a solid and clear gameplan and stick to it! No sense having a gameplan you throw out when things get off track. A gameplan is what gets and keeps you on track when things go awry.
Use these 3 keys and your inner game will be on solid ground. Then your natural abilities can come to the fore. Mental preparation builds confidence that you have taken the necessary steps to ensure you perform at your best.
Golf Mental Game Coaching System