British Open Golf Mental Game
British Open Golf mental game.
In 2010 Louis Oosthuizen put on a clinic reminiscent of Tiger Woods in 2000. What a driving exhibition. Darned near perfect. While other players were piling up bogeys and doubles he calmly drained putt after putt and had solid pars, the odd birdie and an eagle.
He deserved the British Open Championship without question. Congratulations.
The course conditions are perfect, in my opinion. When I watch a major championship I respect the winner of the British Open Golf Tournament the most. The winner's mental game is put to the fullest test.
There's nothing like watching a top level pro hitting a 7 iron 125 yards dead into the wind. The "old" game is played along the ground, which is how the game was invented. We in North America play it through the air. The change in conditions of weather and the course give the entire game a real and true test.
Mental Part of Playing Tough Conditions
How do you deal with difficult conditions? When the weather is bad and the wind is howling and/or you're playing on a course that is out of your comfort zone, do you fold or look at it as an opportunity to test yourself?
Many people are defeated before they even tee it up on the 1st hole. How do you talk to yourself inside? There are things that can be done to improve chances of success at the Open Championship.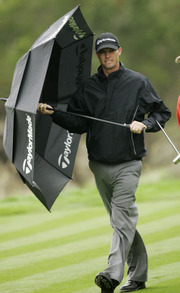 Like British Open Golf mental game preparation and development is crucial to playing your best. In bad weather and difficult course conditions your mental game must be dialed in. Your overall mindset is the key.
Like Paul Azinger says; "You wanna have a childlike anticipation". That's a wonderful mindset and one that serves you no matter what the game throws at you.
Keep in mind that most ever player is whining inside and making excuses and finding ways to justify why they're not playing well. It's too windy, the greens are slow, the bunkers aren't raked, it's too cold, and on and on...
In fact just knowing most players are already beat allows you to gain even more confidence. Bad breaks and bogeys are more than likely. That's part of British open golf mental game and it is your key to getting everything out of your game.


Minding Your Game Training Course