Kyle Stanley Mental Game
Kyle Stanley proves his mental game is a cut above the average tour player. Can you imagine losing a tournament only one week prior to this by collapsing (there's no other way to candy coat that loss) by losing a 7 shot lead.
Then he goes out and gets his first win by coming from behind a full 4 shots! No matter how you look at it this is impressive. Only one week prior this week's win he displayed signs of no mental focus and then only 7 days later he completely writes a new script in the story of his golfing life...
True Mental Toughness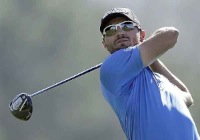 Kyle Stanley showed me, and every other serious onlooker, what the power of a focused, committed mind can do for performance. He knew inside he had the game and found within himself a connection to his core ideal and core belief in himself.
This let him go out and tap his potential and still believe he would win. Not only someday, but now! I watched this tournament with complete fascination in how it would unfold but I'll admit I never thought he would do to someone else what happened to him only a week before. Wow.
Flashback of Rorly McIlroy
This is eerily similar to what Rory McIlroy did after collapsing at the Masters and the blowing away the field at the following US Open. Ok, Kyle's win may not have the same marque` value but in terms of bouncing back this was equally as impressive since it took only one week!
I just felt like giving him the due he so very much deserves. His life story will never be the same after this and could have been so very different had he not had the mental fortitude and self belief that no matter what happened in the past it does not affect this moment.
Each tournament, each round, each shot is brand new and he was able to make that absolutely essential mindset a living reality on the golf course. Congratulations Kyle Stanley and your mental toughness.