Match Play Golf Rules!
Match Play Golf Rules
No, this isn't about the
rules
in match play... It's about how match play rules. In my opinion match play is the purest form of golf. Two players (or teams), head to head. Mano e` mano.
Recall Mike Wier against Tiger Woods in the 2007 President's Cup. No matter who you cheer for it was a great match. Yeah Mike! Woops, I guess my Canadian roots snuck out...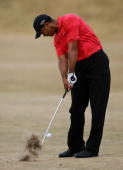 Imagine years ago in the US Open when on the final Sunday they played 2 rounds of match play to decide the winner! Much like how the US Amateur is still decided. Talk about intense!
The incredible cauldron that match play is takes its' toll on players. The mental grind is unavoidable and intense. Many players dislike it. Some claim it's not "fair" and doesn't determine the best player.
There's too much luck involved the naysayers say. Even David Duval openly panned match play only to do a 180 degree turn after his Ryder Cup experience. He now believes it's the ultimate test.
Match Play Tests Your Mind
Match play golf challenges your mind in ways that regular stroke play can never do. Don't get me wrong, stroke play tournaments are pressure cookers too, for many players. Yet there is a certain dynamic in match play that doesn't exist in any other format in golf.
You have to be aware of how your opponent is playing. Not only overall but hole by hole and shot by shot. The way you approach a shot is influenced by your opponents situation. The mental game comes to the forefront in match play.



The ebb and flow of momentum can swing so fast a 3 up lead can vanish in moments. Not only because you might have hit a couple bad shots but your opponent might just get lucky and drain a 35 footer for par and you miss your 6 footer and lose the hole!
I love it! You see, my mindset is one of positive anticipation. What might happen next in the round? Seriously. You literally never know what shot you might hit under the gun or what mistake your opponent might make to swing things back in your favor.
Match Play forces you to be present in each shot. There is no tomorrow, in a sense.
It Builds Your Resolve
I recommend my clients take up Match Play Golf in earnest to develop their mental toughness. It pays massive dividends in all areas of the game and in every other type of competitive golf.
If you have a lead in a tournament you don't coast as you know how quickly things can turn. If you're trailing your reserve of inner resolve built by the grind of match play serves you well. It can be the fuel for your big comeback.
Look at Tiger's many match play wins as an amateur. Do you think his multiple match play wins while coming from behind have assisted his belief level at all through his career?! Hmmm, I wonder...And how many Accenture Match Play titles has he won?
I'd say Match Play does reveal the best player. The best player that week. And that's how it should be. Whoever stays present the longest wins.
Embrace match play golf with your friends and you'll find a new level of joy for the game. Not to mention the mental game gains you'll get...