Vijay Singh's Mental Game
Vijay Singh's mental game
is cutting edge yet most commentators only talk of his incredible work ethic. Sure he pounds thousands of balls and has a great fitness regime. Yet the way he's winning lately has much more to do with his mental training.
And he will tell you so. If you had a chance to read his post round comments after winning the Deutsche Bank Tournament, you'd hear clear insights into where his head is at.
Will to Win & Cause for Change
When Vijay won a tournament in a playoff against Sergio Garcia in his last win prior to the Deutsche Bank tournament, he had to make a bomb on 18 just to get into a playoff. Here are his comments:
"I absolutely put all my energy into making that putt, and that's not the way to putt," Singh said. "It was one of the worst feelings over a putt. If I didn't have the will inside of me to make that putt, the heart to make it, I don't think I would have made it.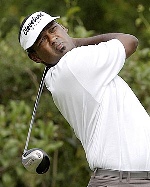 "That's when I decided you've got to have an attitude change."
Vijay realized he couldn't play long term that way without burning out. He went on to say later about his sporadic play with missed cuts then wins, then another missed cut and then another win: "My unconscious mind had a lot of stored-up bad thoughts in there, and that was the key, to get rid of all that, and I think I've done that,' Singh said.
As an inner game coach I teach players to understand the relationship between their conscious and subconscious mind. And how to benefit from their natural tendencies. This turbocharges your mental game whether you're a high or low handicap player or a pro. Much like how Vijay Singh's mental game has improved.
Seeing & Feeling Excellence Creates It
Vijay goes on to say: "(The) attitude change, it's kind of worked right through the whole golf game," Singh acknowledged. "I told myself I am the best putter in the world before that tournament. Instead of just talking about my putting, I started talking about the rest of my game, as well. It kind of carried on." (You can easily see the changes in Vijay Singh's mental game.)
(Note: If you watch golf at all you know how poorly he was putting this whole year so his change of attitude caused his putting improvement. Not a technical change.)
"I'm standing on the tee and thinking that I'm the best driver of the golf ball before I hit it. That is a great way to go ahead and it takes away all the negative thoughts, and that's what we all strive for."
If you're serious about shooting the lowest scores and emulating vijay singh's mental game, you owe it to yourself to fully explore every avenue available for tapping full power of your mind and channeling it into your game.